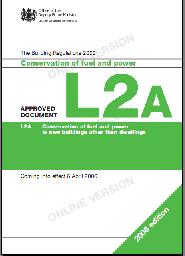 From CIBSE TM31: 2006
Ideally, buildings should be designed so that their operation is self-evident. In practice, this is very difficult to achieve and, as with any complex device, an overview of the fundamental principles behind the design will greatly facilitate operation and maintenance. Log books aim to solve a number of problems in the buildings industry:

to span the gap between design and operation
to improve the facilities manager's understanding of the design intent
to enhance the commissioning and handover process
to provide more concise and accessible information than that contained in operating and maintenance (o&M) manuals
to provide a vehicle for recording building alterations and performance
to provide useful information to letting agents and developers at the point of sale/letting
Part L of the Building Regulations in England and Wales4 contains a requirement for provision of the summary information contained in a log book for new buildings, major refurbishments and buildings where significant changes have been made to the building services. In Scotland the Building (Scotland) Regulations.
Log books provide a means for the owner/occupier/facilities manager to track energy performance and improvements throughout the buildings life. There is a fundemental risk that much of the buiding operation knowledge is stored in the memories of staff responsible for maintaining and operating it in a volatile format. By formulating a log book, the building operation is summarised and relevant documents easily referred to in order that the building performance does not suffer through loss of operational knowledge.
We can support you to:
Develop and deliver a compliant log book
Incorporate improvement activities identified while researching and authoring the log book
Make other compliance activities easier (such as DEC achievement and Air Conditioning Inspections) through extracting relevant and useful information and sources of further detail
We have experience in:
Authoring log books for non-standard buildings.
Dealing with multi-tenant, multi-operation building use.
Working alongside other compliance service providers in a partnership to fulfill the clients needs in the most expedient way.
Developing and delivering improvement programmes from the knowledge created by the log book.
Our specialist subject areas include:
Energy efficiency
Carbon management
Building regulation compliance
Metering compliance
Obtaining funding for energy improvement measures.