Maintenance Techniques
During the last thirty years, much study work has taken place to trace the impacts and causes of carrying out maintenance inappropriately or ineffectively. One such example is shown below: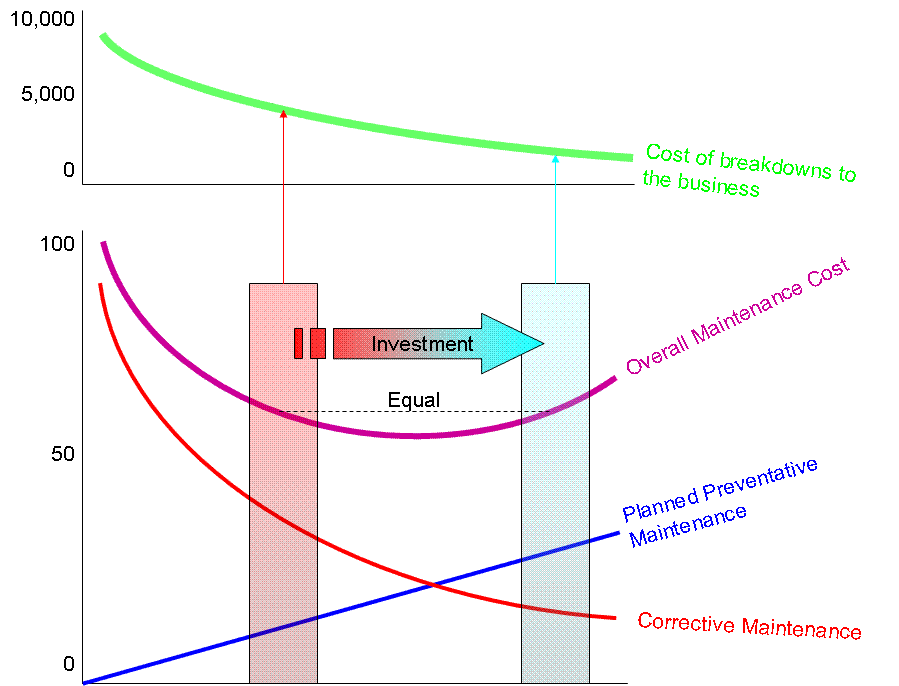 Business impact cost caused by equipment failure in cost per hundred units turnover
The graph at the bottom right of the page shows the correlation between preventative maintenance activities and the subsequent:
Corrective maintenance cost (drops with increased preventative maintenance)
Overall maintenance cost (drops but then rises as preventative maintenance reaches a point of diminishing returns
What is seldom considered is the effect of equipment failure to the business which can exceed the maintenance cost by a hundredfold or more in some cases (see graph upper right).
Most companies fall in the pink area where preventative maintenance is reduced to the effect of low maintenance costs but high business cost impact.
It is possible to move over to the blue band with no annual increase in maintenance costs but a significant drop in business impact cost. This requires an investment in people and technology and is largely realised through techniques such Reliability Centred Maintenance and Condition-Based Monitoring.
Maintenance cost caused by equipment failure in cost per hundred units turnover